Katie Holmes is apparently taking style pointers from Victoria "Posh" Beckham these days. The former Dawson's Creek star has been looking much more her age recently with a shorter, cuter new hair-do as well as some age-appropriate stylish clothing. I mean, Holmes has always been pretty cute although she's had her "what-is-she-thinking" days as well, but with the arrival of the fashionable Beckhams in the U.S. this past summer, she started turning into a Posh clone.
At first, I was a little amused at how much Katie Holmes looked just like VPB and then a little annoyed by that same fact. It seemed that Holmes had lost any resemblance of her own personal style and was transitioning into a Posh replica. As time progressed, Holmes learned how to incorporate the two styles so she had the best of both worlds - stylish outfits with that extra dash of pizazz to keep her looking fresh and sweet.
However, one thing that Katie has that Posh does not (besides knowing how to smile and a couch-jumping husband) is adorable Suri Cruise, also known as Katie's cutest accessory. If Tom Cruise was ecstatic over his relationship with Katie Holmes, I can only imagine how proud he must be of Suri.
Both mom and daughter have been looking rather excellent and these pictures are further proof: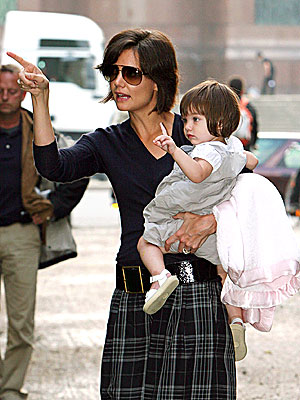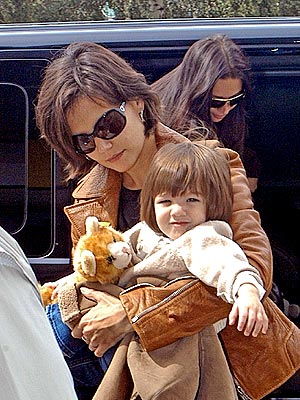 Style-on Katie! You've been looking rather amazing of late and we know you can keep it up. Please - do it for Suri!
Meanwhile, Posh has intertwined herself with Marc Jacobs latest Spring 2008 campaign, which although quirky, has moved her further along the path of looking utterly and completely like an alien.