Dear Linen Lounge,


I have the hardest time picking out sunglasses. I can't seem to find the right kind to go with my face shape and the new aviator/bulky
su
nglasses look is too bold for me. I can't see whe
n I'm driving, out with my friends or just taking a leisurely stroll. It's a real problem.
Can you help me see again?

- Blinded in the Sunlight
P.S. I
think you're awesome.


Dear Blinded in the Sunlight,

First off, thank you for your sweet words and for writing to us here at the Linen Lounge.

Now, on to your question - Finding a great pair of shades is crucial during sunny summer months - and equally as important for those days
w
hen the r
eflection off of the snow is slowly burning through your retinas. But what's more important in the hunt for the perfect pair of sunglasses is function. Yes, style is paramount, but if they don't do anything to protect your eyes, they're basically useless -- unless they're 'personality glasses' (which the Linen Lounge is whole-heartedly against). So the first rule of sh
opping for sunglasses is to always
make sure that your sunshades have an appropriate amount of UV protection
(100%!).

But rule two is what I am sure you are all here to find out about: Find Fabulous Face Flattering Frames (the 5 F's?...nevermind). I like to consider myself somewhat of a sunglass connoisseur. I've spent countless hours searching for the perfect pa
ir, and lemme tell you, it's no walk in the park. I've tried on what I am sure is hundreds of pa
irs of sunglasses, ranging from a spinning rack at the grocery store, to the latest Versace shad
es at Sunglass Hut. I have about 10 pairs that I rely on to provide me maximum protection at maximum style, but finding them wasn't easy at all. It's not like finding a bag or a pair of s
hoes. You can see a pair of shoes and know they'll look fabulous on you. Sunglasses? Not so much. A pair of Rayban Wayfarers which looks cute on the rack might look way too dramatic on your face. It's about finding the best shapes, colors, and fits - more like choosing a pair of pants. But it CAN be done! When you've found the perfect pair of shades, they'll not only be a style statement, but also play up your best facial assets as well as minimizing your least favorite parts. We did some searching after receiving your question, and we fell upon this website. It is a great guide for finding the best shades for your face shape, complexion, and hairstyle.

If that doesn't help you out, below, we have inclu
ded
some
examples of stylish (yet functional!) sunglasses worn correctly, and at a variety of pric
e points.


Aviators
are probably my favorite type of sunglasses. I own about 5 pairs of Aviators ranging from $6 ones from H&M to a pair of Marc Jacobs shades that I snagged at a local upscale outlet store. They flatter most face shapes, are undoubtedly stylish, and are likely to remain so forever. I don't think I'll ever get tired of this classic look. I know you say you don't particularly like aviators, but I say you give them another chance. A simple wire-frame with an oversized lens (such as the Raybans pictured below) can provide ample coverage, without restricting your peripheral vision, all while providing unbeatab
le e
ye protection.


Brad and Angelina
Ray Ban Aviators (The
Or
iginal
Aviator)
Sunglass Hut: $129.95



Urban Outfitters: $18.00


Rimless
sunglasses are a relatively modern style of sunglasses. They're sleek, edgy, and reserved. While they're rarely ever particularly ostentatious, they still look very high fashion. Although I'm not a huge fan, my current favorite pair of sunglasses is a rimless style. Personally, I think it makes a style statement, and really, isn't that what we all want?


Kanye West
Neiman Marcus: $290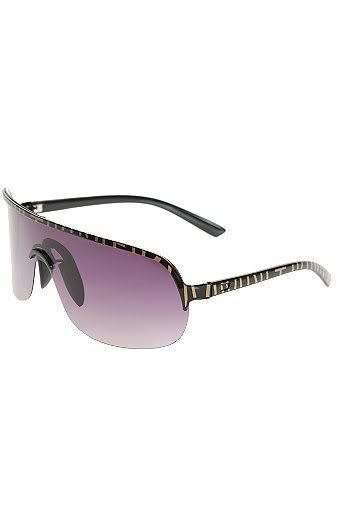 Urban Outfitters: $10


Plastic
shades have made a comeback as of a few years ago, and after Aviators, they are another personal favorite of mine. But watch out! Plastic shades can get very "bug-eyed" if not approached with care (a la Nicole Richie). But the right pair of plastic shades will look fun, youthful, and stylish.

Jennifer Lopez, Paris Hilton, Nicole Richie

Marc by Marc Jacobs
Nordstrom: $105


American Eagle: $20


When you've found out your perfect style and fit, check out the selection on the Nordstrom website, which categorizes their sunglasses by face shape compatibility. Hopefully some of these suggestions will help you choose the pair that's right for you, whether you prefer pricier quality pieces, or more affordable style statements. I'm afraid I can't offer you one solid suggestion regarding your issue (I'm sure by now, you know the importance of shape, size, and fit!). But if I were forced to choose a pair of sunglasses that worked for everyone, it would definitely be those Rayban aviators pictured above. I got a pair about 2 years ago, and while they've taken quite the beating, are still my favorite pair of sunglasses. They look great on most face shapes, and they go with almost every outfit. If you feel like saving up for a pair of designer sunnies, you can't go wrong with the Rayban Aviator.


Hope it helped!
- Anthony

Sources & Photo Credits 1 2 3 4 5 6 7 8